Transformation of Bosjes Estate continues with opening of contemporary day spa
South Africa, Breedekloof, 17 November 2020; BOSJES Estate is welcoming a summer of local discovery with the opening of a brand-new spa – dubbed 'Die Stalle' (The Stables) – on the estate; a bold step towards the overarching vision for BOSJES as a multi-faceted lifestyle destination in the scenic Breedekloof winelands.
The new spa – open to both day visitors, and guests staying overnight at BOSJES – is situated in what was once the original farm stables, and was named Die Stalle in honour of this proud heritage.
The task of transforming this historic building into a contemporary spa facility was left to interior designer Liam Mooney, who has played an integral part in shaping the design aesthetic of BOSJES Estate.
"While we didn't want to be too derivative, we wanted to speak subtly to the history of the building," explains Mooney of the transformation. "It was important that the design was soft and comforting, and as relaxing as possible. We wanted our guests to feel completely safe and at ease in the space."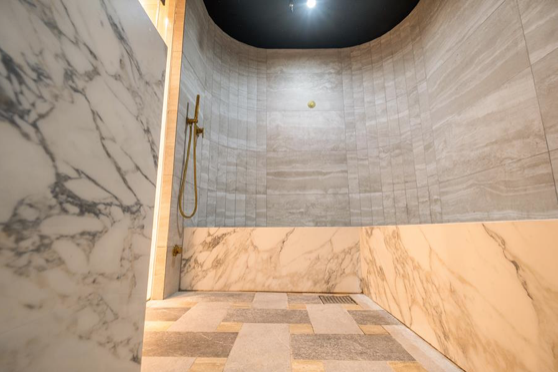 A delicate design aesthetic
To soften the linearity of the space, Mooney opted for vaulted ceilings and rounded corners, the gentle visual lines accentuated by a soothing colour palette and textured Venetian plasterwork. In the bathrooms the walls are adorned with beautiful zellige tiles, each handmade in Morocco and entirely unique.
A striking equine sculpture by artist Rowan Smith is an eye-catching addition to the reception area, while those with a keen eye will notice that the wide entrance doors are mounted backwards, highlighting the traditional Z-bracing of brass hinges and emphasising the heritage of the space.
Another example of this exquisite attention to detail is the basket-weave tiling pattern, a subtle tribute to the rawhide 'riempie' chairs unique to Cape Dutch design.
Go on a Journey with BOSJES
Within this nurturing space, Die Stalle offers two treatment rooms – one suitable for couples – along with private changing facilities, an outdoor shower, custom-built sauna and modern Rasul chamber.
Treatments at Die Stalle utilise products from the Healing Earth range, which are entirely organic and locally produced.
"We chose Healing Earth because they really tie in with the values we stand for here at BOSJES: of supporting local business and celebrating products that are true to our region," says Carlen Vorster, CEO of Hospitality & Marketing for BOSJES Estate.
Treatments at Die Stalle also draw on a selection of bespoke products created for BOSJES, incorporating many of the indigenous flowers, herbs and botanicals that flourish in the estate's immaculately landscaped gardens. In the future this range of organic products will gradually expand into a comprehensive selection of farm-inspired bath amenities.
Restorative Rasul treatments at Die Stalle also use the BOSJES Orchard range of products – BOSJES Orchard Clay, and BOSJES Orchard Salt Scrub – which are hand-made on-site to incorporate fresh ingredients from the gardens.
In the warm inviting space and array of treatments, the focus of Die Stalle is firmly on rejuvenation, says Vorster. "We are not trying to be a health spa. Die Stalle is meant to be about indulgence, and setting aside time for relaxing; time to spoil yourself."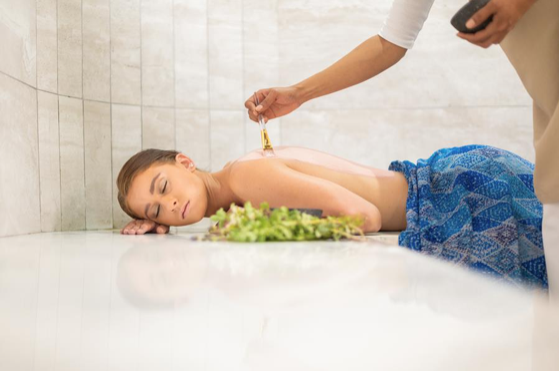 You can afford to indulge
To that end, the spa menu offers a diverse selection of professional facial, foot, and body treatments, carefully priced within reach of local travellers.
The signature offering is the pair of BOSJES Journeys, each offering two hours of pure wellness indulgence. The BOSJES Cleansing and Detox Journey turns to the detoxifying powers of mongongo nut, with guests enjoying a steam session, body scrub, detox gel wrap and reflexology treatment, finishing with a full body lymphatic massage. The BOSJES Well-Being Journey is focused on promoting healthy glowing skin, beginning with a relaxing Rasul session, and followed by a full body massage using the bespoke BOSJES Orchard products.
"The focus of Die Stalle is on pampering, and the Journeys really allow guests to enjoy all that the spa has to offer," explains Vorster.
In addition to the Journeys, half- and full-day spa packages are available, offering a customisable selection of treatments. These packages include use of the pool at the BOSJES Die Skuur Guesthouse and a light health-boosting lunch, turning a spa visit into an all-encompassing destination for winelands relaxation.
A new phase of BOSJES draws near
The opening of Die Stalle dovetails neatly with BOSJES' growing acclaim as one of the most sought-after wedding destinations in the winelands, thanks to the eye-catching chapel designed by London-based architect Coetzee Steyn. Wedding parties and weekenders have equally fallen in love with the understated charm of the BOSJES Die Skuur Guesthouse, while the BOSJES Kombuis dishes up contemporary country cuisine in a modern, yet family-friendly space.
"The opening of the spa is just the beginning of the ongoing transformation at BOSJES," says Vorster. "Visitors to the estate will already have seen the incredible landscaping and building underway above the Kapel, (Chapel). We're now putting the finishing touches to this exciting new development, and we can't wait to share this next step in our evolution in early-2021."
BOSJES is situated 28 kms from Ceres in the beautiful Breede Valley, R43 Worcester [6849], at the foot of the Waaihoek Mountain. BOSJES, with steep mountain ranges on both sides and the Breede River that winds through the valley, is one of those tranquil, off the beaten track places, rich in history and natural. Stay up to date with mouth-watering meals and home treats to spoil guests; in the family-friendly BOSJES Kombuis bistro-style restaurant and teetuin (tea garden), while luxury guesthouse style accommodation ensures peaceful sleep by visiting www.bosjes.co.za for more info.
For press assistance contact Ian Manley of ManleySocial on 082 826 0456, or email toian@publicity.co.za or visit Manley Social at www.manleysocial.co.za