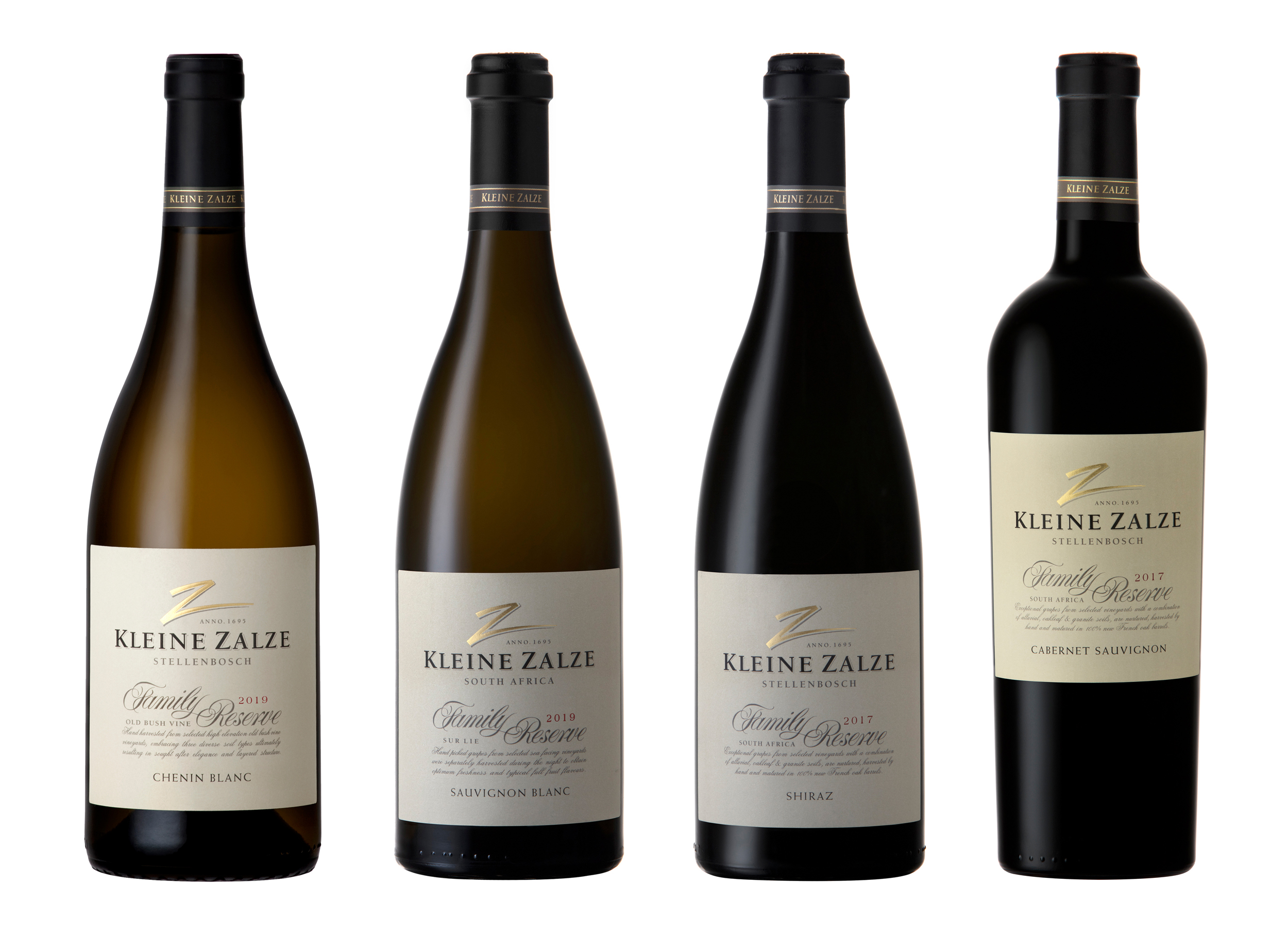 A VISION COMES TO LIFE: THE EAGERLY AWAITED KLEINE ZALZE FAMILY RESERVE NEW VINTAGE RELEASE
Stellenbosch, South Africa, 13 April 2021 – The Kleine Zalze Family Reserve range is the Basson family's 25-year vision come to life. First and foremost a family business, owner and managing director Kobus Basson and his wife Mariette remain the driving force behind the Stellenbosch farm. From the very beginning the Bassons have been in constant pursuit of ever-improving quality for the estate's wines.
Kleine Zalze is unique in that while it may be one of the oldest properties in Stellenbosch, it is an estate that hasn't been passed down through generations.  The Basson family bought the farm in 1996 and set about building the business from the ground up. With humble beginnings it would be a few more years before the estate became commercially viable as the team gathered experience and knowledge to improve the wine offering, building up to the Family Reserve wines, which are the pinnacle of this decades-long dedication.
This latest release of the Kleine Zalze Family Reserve wines is also the result of building relationships both in South Africa as well as in export markets. Loyalty and consistency is the golden thread that runs through every facet of Kleine Zalze, from the vineyards and cellar to client relations.
Its most resounding release to date, the Kleine Zalze Family Reserve wines are being heralded by both local and international critics alike. It's a definitive, confident showcase by the estate of its flagship wines.
"This range is our pride and joy, the very best of the best," commented winemaker RJ Botha. "We only produce these wines in exceptional vintages and we make them in limited quantities."
The four wines, considered to be the top expressions of their cultivars, encompass two of South Africa's most exciting vintages, the 2019 for whites and the 2017 for reds. They are the Family Reserve Sauvignon Blanc 2019, the Family Reserve Chenin Blanc 2019, the Family Reserve Cabernet Sauvignon 2017 and the Family Reserve Shiraz 2017.
On the dawn of its Silver Jubilee, Kleine Zalze was named best producer in consecutive premium competitions by two of South Africa's most influential and experienced wine-tasting panels, this included being named Platter's 2021 Winery of the Year with a remarkable set of seven 5-star wines. Among these were three five-stars from the Family Reserve as well as a 4.5-star for the Shiraz.
Added to that the Family Reserve Sauvignon Blanc 2019 has recently been awarded a gold in the world's most influential Sauvignon Blanc competition, Concours Mondial du Sauvignon 2021. Joining the run of international golds, the Family Reserve Shiraz 2017 was awarded a Gold as well as crowned Best of Show SA Red at the Mundus Vini International Wine Awards Spring Tasting 2021, another Gold was given to the Family Reserve Cabernet Sauvignon 2017 at this show – with the result of the estate being named Best Producer South Africa overall.
"The consistent performance at Platter and other shows reflects the care and craftsmanship pursued from the vineyards to the cellar and into the bottle." – commented Kobus Basson.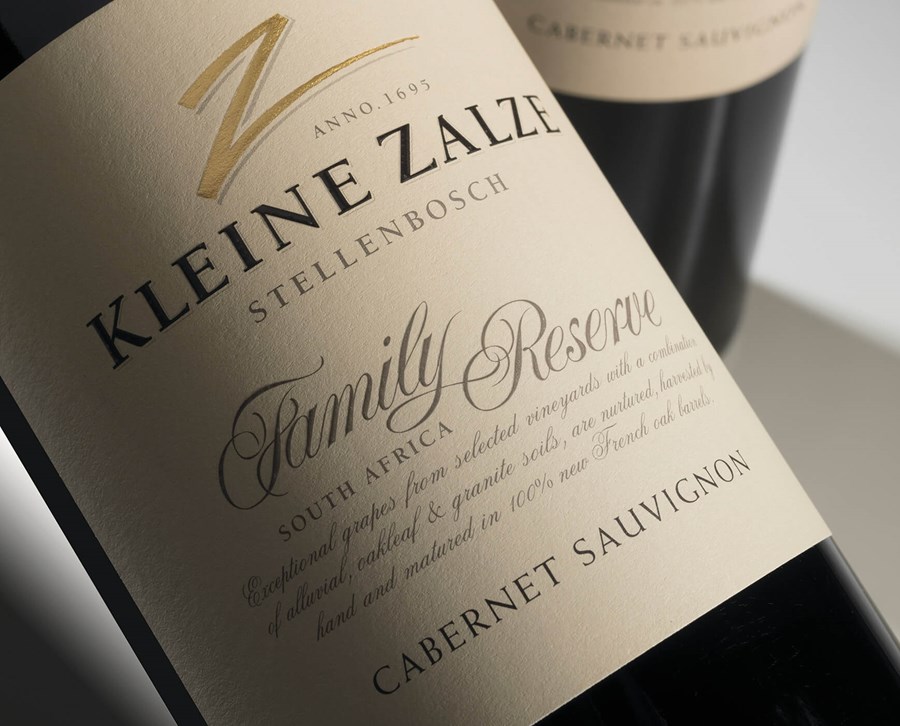 THE REDS
The Family Reserve Cabernet Sauvignon 2017
Hailed as a watershed vintage for Cabernet Sauvignon, 2017 was an elegant yet powerful vintage. The fruit was sourced from two specific vineyard blocks on Kleine Zalze as well as one small parcel from the slopes of the Helderberg.
Commented cellarmaster Alastair Rimmer: "Our style is quite modern with a graphite tannin profile, fine but structured. There's a density of black fruit, that reminds you of Napa Cab in its fruit intensity, though with this fine-grained linear tannin profile, it's also a touch Bordeaux-esque with a hint of fynbos freshness."
An intense bouquet that shows savoury tobacco notes along with liquorice and mint with a deep core of black plum and cassis. The palate shows a density and depth of flavour only found in the best vintages. An opulent entry of the dark fruit seen on the nose gives way to a vibrant back palate with a refreshing acidity. Despite the wine's 'broad shoulders' it maintains a svelte structure and almost never ending finish. A brilliant example of how great Stellenbosch Cabernet can be, highlighting the perfect balance between new-world opulence and old-world elegance.
The Family Reserve Shiraz 2017
A great example of this variety and what it can do in Stellenbosch. A bouquet of ripe red fruits is underpinned by savoury notes and hints of pink peppercorn. These flavours follow on the palate, which is intense and powerful upfront, yet still has a fine-grained tannin structure and good freshness that keeps everything in balance. With both savoury and fruit notes this wine is a very versatile wine to enjoy with food, but be assured the mouth filling, supple tannin structure will ensure that one will be well rewarded by cellaring this wine carefully for a few years before enjoying.
For Shiraz the 2017 vintage was said to favour a nuanced style, offering both a fine-boned structure as well as an elegant perfume. The grapes were sourced from the home farm at Kleine Zalze as well as from the Faure farm (also under Kleine Zalze management) about 12 clicks from the ocean, the cooler component of the fruit adding in lift and fragrance.
"We let the sites tell us how to approach the vinification, a case of terroir over technique." says Rimmer. 
A significant change to the 2017 Shiraz from its predecessors is that the style is more Old World, and less New World in its expression. Straddling something between being fruit-forward as well as the more subtle, savoury side of the grape. 
THE WHITES
The Family Reserve Chenin Blanc 2019
2019 has been widely declared as an extraordinary white wine vintage. Moderate day temperatures were followed by cool nights with very little rain during ripening. This resulted in superlative and healthy fruit with intense fruit concentration from Chenin bush vines that are all over 40 years old and dryland farmed.
Picking dates and getting the grapes in at the right time is paramount. This is done in pursuit of capturing the more mineral side of the grape (when grown on granitic soils), rather than the big, ripe styles.
No new oak was used. The wine fermented in 400L French oak barrels (2nd, 3rd and 4th fill) to protect the delicate Chenin fruit. The wine then spent an extra 8-months in barrel before blending of the components. Amphorae matured components have also played their part, contributing freshness, minerality and linearity. There was no fining or filtration before bottling.
White flowers and quince with hints of minerality leading to stone fruit flavours supported by well integrated oak. Enjoy now or mature up to 15 years at optimum storage conditions.
The Family Reserve Sauvignon Blanc 2019
"2019 was one of the best Sauvignon Blanc vintages in history," says Botha. Something of a Sauvignon savant Botha says his approach is to find natural balance in the vineyard foregoing acidification or other additives. When it comes to the winemaking Botha describes their approach as 'very pedantic'. Every process from picking to bottling was done in a super reductive fashion with dry ice being added in the bins in the vineyard in order to protect the grapes from oxidation. The wine is also then kept at a low temperature until the day it is bottled to avoid temperature fluctuations, which could result in a drop in quality. "I don't compromise on palate weight when it comes to Sauvignon Blanc. My aim is to build texture into the wine and to not have it dominated by the aromatics." says Botha.
Lively and herbaceous with crisp layers of fruit. Intense palate with tropical and green elements this is a serious wine with a long future. Will reward with careful cellaring for the next five years.
With the 2021 vintage now resting in tank and barrel, the Basson family and their talented team led by Rimmer and Botha will continue to plot the course for the next 25 years at Kleine Zalze. Guided along by their philosophy of working with the flavour profile in the vineyard and to continue producing wines of consistent excellence.
Order Kleine Zalze wines online at https://shop.kleinezalze.co.za/.
Kleine Zalze is one of the most established wineries of the Cape and is situated off the R44 between Stellenbosch and Somerset West.
 For more information visit www.kleinezalze.co.za or email quality@kleinezalze.co.za. The estate is also on Twitter @kleine_zalze and Facebook (https://www.facebook.com/kleinezalzeofficial)
For press assistance contact Lise Manley of ManleySocial on 082 828 5168 or email to lise@publicity.co.za or Kleine Zalze Executive Manager: Marketing and Sales Carina Gous via e-mail cgous@kleinezalze.co.za.
ENDS/