CHEF CANDICE PHILIP TAKES UP CHEF IN RESIDENCE FOR BASALT AT THE PEECH HOTEL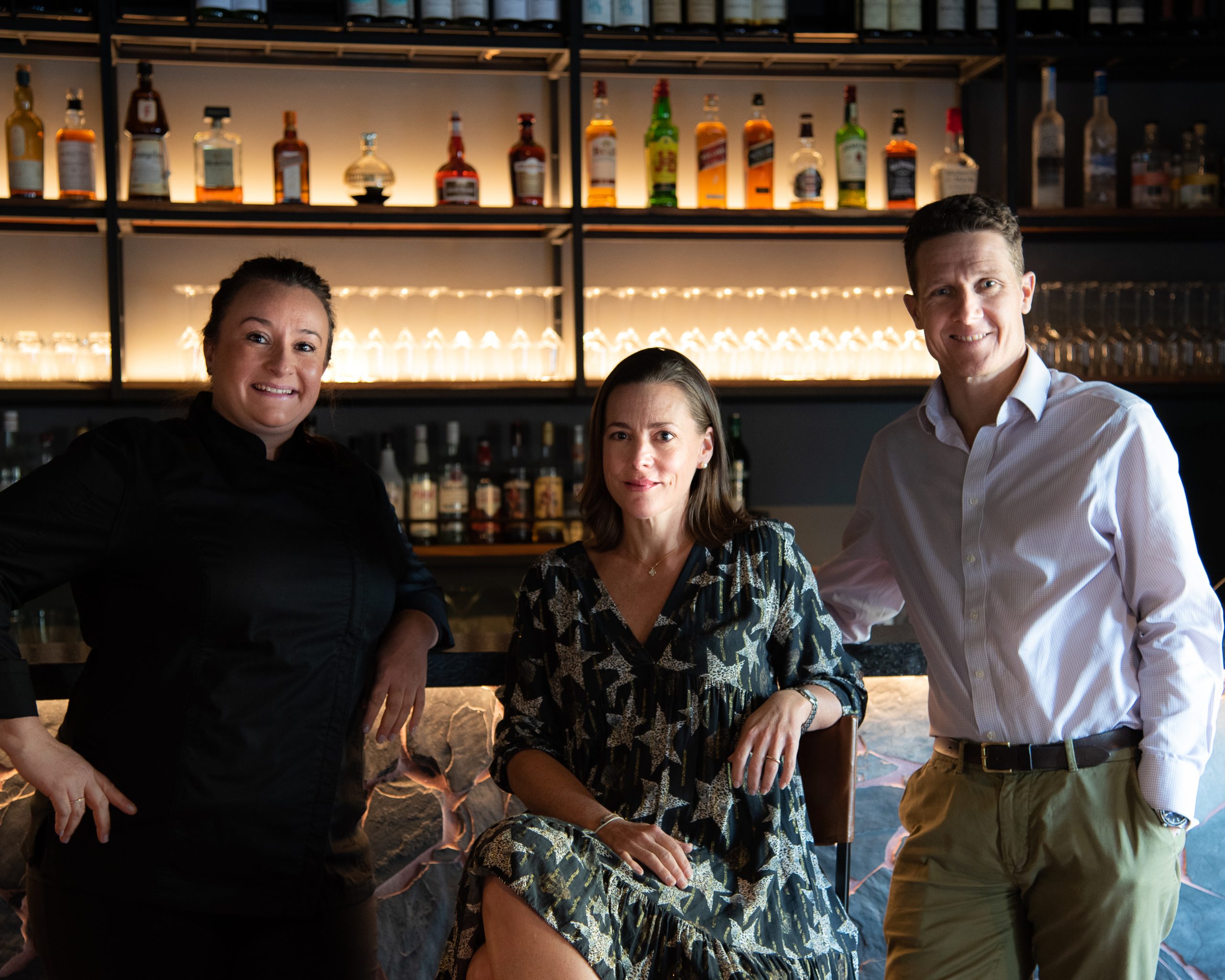 From left to right: Chef Candice Phillip, Vicky Peech & James Peech.
South Africa, Johannesburg, Wednesday, 5 May 2021; James and Vicky Peech from Johannesburg's eco-chic The Peech Hotel are delighted to announce that highly respected South African Chef Candice Philip is to lead the hotel's signature Basalt Restaurant as Chef in Residence.
Following the success of The Peech's late 2020 Guest Chef pop-up series to support independent Johannesburg chefs during the COVID-19 pandemic, The Peech Hotel and Chef Candice were eager to create another opportunity to collaborate together.  Says James "We loved working with Chef Candice, she enjoyed headlining the Basalt kitchen, and doing what she loves most again. Last year's pop-up dining series sold out quickly, and we all felt we should definitely do more together. We are excited to welcome Chef Candice back to Basalt for an extended collaboration as Chef in Residence from mid-May through to August this year.
Vicky adds "Since reopening Basalt to the public last August, we've seen a strong trend towards 'celebration' dining, with guests being more discerning about what they eat, where they dine, and with whom.  As our social lives continue under the veil of caution, there is a 'make it count' psychology.  When people go out to dine with close friends and loved ones, it has to be special, unique and memorable.  Chef Candice and her exceptional pedigree of leading fine dining restaurants in the city will offer diners an opportunity to savour an exceptional gourmand experience whilst here at Basalt".
Candice officially takes up Chef In Residence at Basalt Restaurant from mid-May for an initial 3-month residency.  Joining her in the kitchen will be David Hayes, Head Chef at The Peech Hotel and previously Sous Chef of Farro Restaurant.
Having designed and delivered an array of bespoke dining experiences for private clients and luxury brands over the past 12 months, Chef Candice knows first-hand that Joburg diners are looking for something exceptional, and an experience they cannot create at home.  "During my residency at Basalt I want to focus on connection, bringing people together again with open hearts and open minds, providing an opportunity for them to reconnect through sharing an amazing experience, one that inspires and delights through taste and the creation of brand new memories".  Initially Chef Candice will open Basalt with an exquisite 6-course fine-dining menu inspired by the changing seasons, bringing great local ingredients and artisan producers to the fore, many of whom need our support now more than ever.
CHEF CANDICE PHILIP
Having previously worked under legendary chefs David Higgs and Luke Dale Roberts, chef Candice launched her own successful dining concept, GREI at the Saxon Hotel in 2018, where she was awarded the Mercedes-Benz Eat Out Nederburg Rising Star award in the same year, the Young Chef of the Year Award by Condé Nast House & Garden SA Gourmet Restaurant Awards as well as the 'Haute Property' award by the Gourmet Guide. Since then, Chef Candice has inspired many local and international diners with her significant attention to detail and delicate balancing of simplicity with sophistication.
ENQUIRIES & BOOKINGS
Chef Candice will open with dinner reservations at Basalt from Thursday to Saturday evenings commencing Thursday, May 20th 2021.
To ensure the enjoyment and safety of all diners, seating will be restricted and reservations are essential (no walk-ins permitted). Menu options and pricing will be sent upon enquiry via basalt@thepeech.co.za but can also be downloaded via www.basalt.restaurant. Bookings open from 10 May 2021.
Enquire also about special staycation packages including accommodation, dinner at Basalt and breakfast the following morning.
WHERE
Basalt Restaurant, The Peech Hotel, 61 North Street, Melrose, Johannesburg. www.basalt.restaurant
Photo Credits: Daria Higgins Imagery and DOOK.
ENDS/