FROST SPARKLES HITS THE SA MARKET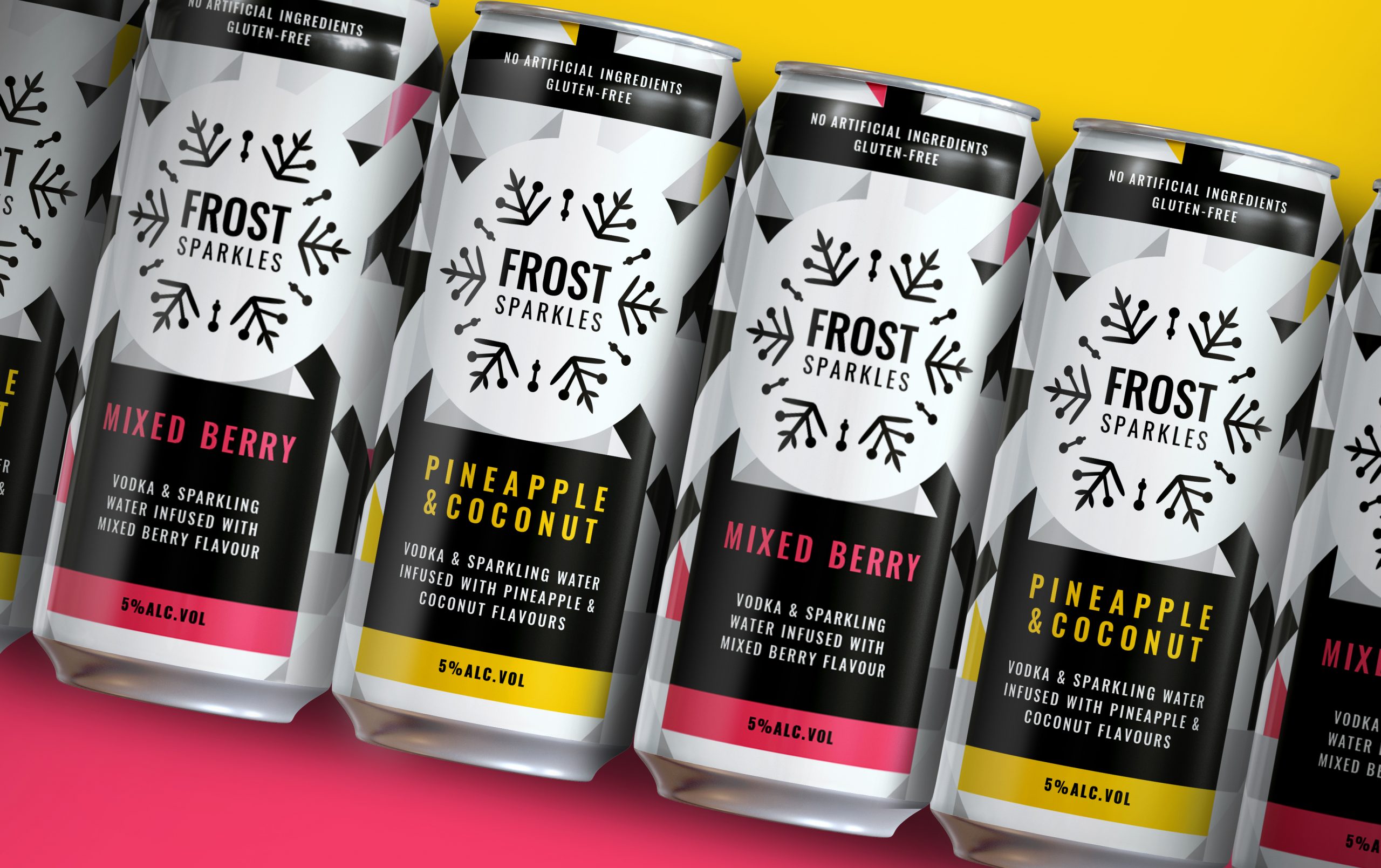 South Africa, Johannesburg, October 2020; THE dynamic duo that delivered the first ever alcoholic frozen popsicles to the South African market have done it again – this time with a range of canned, all-natural spiked sparkling water.
Frost Sparkles is a ready-to-drink vodka-based beverage blended with purified sparkling water and infused with natural flavours, sweetened with fructose.  Available in two flavour profiles – Mixed Berry, and Pineapple & Coconut – this exciting new addition to the South African drinks market has a 5% alcohol content and is low-calorie (under 90 per 300ml can), gluten free and vegan-friendly, plus the 300ml slimline cans are 100% recyclable.
These spiked sparkling waters, or seltzers as they're known overseas, are developed by business partners Natasha Fagri and Jon-Marc De Carvalho, the entrepreneurs who created and launched Frost Popsicles – South Africa's first and only range of premium alcoholic and non-alcoholic frozen popsicles that took the country by storm in September 2016, and continue to do so four years later. Frost Popsicles became an almost overnight hit with consumers, and it is anticipated that Frost Sparkles will do the same.
Natasha Fagri, Co-Founder, explains that she and Jon-Marc De Carvalho consistently track international food & beverage trends to see what is proving successful overseas and noticed how the spiked seltzer category in the US was exploding – with estimates being that by next year it will be a $2.5 billion market. 
"According to research, over half of US alcohol consumers drink spiked seltzers at least once a week, with analysts describing the rise of spiked seltzer as "meteoric" and "phenomenal"."
"Spiked seltzer – also known as hard seltzer or hard sparkling water – is a relatively new phenomenon in the world of alcoholic beverages and completely unknown in South Africa.  The rise of spiked seltzers in the US showed us that there is a gap in the market for consumers underserved by the current alcoholic beverage market – these drinks offer a refreshing low-alcohol alternative – flavourful, but also low-calorie and low-sugar, with no preservatives or artificial ingredients.  The Frost Sparkles 300ml slimline cans also meet the growing consumer demand for convenience."
De Carvalho says that, just like the product development process for Frost Popsicles, he and Fagri started Frost Sparkles by experimenting in his kitchen, deciding on what works well and the ideal flavour profile.  "We also did some research to find out which flavours would appeal to the South African market for the first two spiked seltzers in the range, and Wild Berry and Pineapple & Coconut proved to be winners."
"The sweetness (which comes from fructose) in Frost Sparkles is very subtle and not overwhelming, plus we settled on a gentle carbonation so that the drink is not too fizzy.  The cans have a 2-year shelf life and we have kept the price point very competitive – not exceeding a R20.00 recommended online and off-premise retail price per can."
Fagri and De Carvalho are certainly developing a reputation as leaders in innovation when it comes to exciting and new alcoholic offerings in SA.  When Frost Popsicles launched in 2016 it was into a struggling SA economy, yet the product had an overwhelmingly positive response – with sales exceeding all expectations.  The range started with only two Popsicles, and now consists of nine – three non-alcoholic and six alcoholic, and in July this year they also launched in California, USA.  Now, in an even more embattled economic landscape post Covid-19, the pair are bringing spiked seltzers to the market – with positive expectations for the future of the range.
Fagri believes that " True entrepreneurs don't climb corporate ladders, but rather sew parachutes and fly.  It is essential to remain resilient and relentlessly persevere in the current climate, despite the incredible challenges that the SA retail and liquor market has faced in 2020. We are confident that Frost Sparkles will be well received – people want to have fun again and are desperate for something new and fresh. After all, everyone needs a bit of Sparkle in their lives!"
Frost Sparkles is now available to buy online from Takelot for national delivery, Thirst Bar Services and the online shop at www.frostpopsicles.com. 
Frost Sparkles will also be available in the Makro Festive Season Catalogue, and is part of the Vini Italia SA product portfolio.
Those interested in stocking Frost Sparkles can contact Natasha and Jon-Marc at info@frostsparkles.com. 
Visit www.frostsparkles.com and follow @FrostPopsicles on Facebook and Twitter and @frostpops on Instagram.
For Press and Media assistance contact Catherine Pate, catherine@publicity.co.za, or Lise Manley at lise@publicity.co.za or 082 825 168.
ENDS/