LA MAISON D'ÉTÉ, A MAURITIAN BOUTIQUE HOTEL, HAS REOPENED AFTER A CONTEMPORARY RENOVATION
Mauritius, Port Louis, 22 December 2022; La Maison D'Été, a truly intimate luxury hotel, situated on the east coast of Mauritius, offers a rarity of only sixteen ensuite bedrooms that have all recently received a fresh refurbishment. The remodeling has also included the hotel's popular restaurant and public guest spaces.
South African based interior-design firm, Fox Browne Creative, was invited to weave their inimitable creativity into this authentic island luxury hotel, to create the perfect beach-bliss ambience.
Vibrant beach elegance
The refurbishment saw all of the accommodation being comprehensively refurbished, including the en-suite bathrooms. The rooms, which are defined into four different categories – standard, superior, deluxe, and honeymoon – all now boast beautiful pale tropical colours in shades of coral, blue, green and summer yellow respectively. The shared public spaces, such as the games room, coffee bar, and lounge were given a complete makeover – reconfigured and refreshed with a new look and feel inspired by vibrant beach elegance and Mauritian plantation homesteads.
The very popular hotel restaurant, loved and frequented by Mauritian locals, as well as hotel guests, was also revitalised, as was the rustic beach bar and pool area, where the decking was redone and pool loungers replaced. Beautiful new crocheted umbrellas were brought in from South Africa, where they were hand made by a team of craftswomen from Cape Town.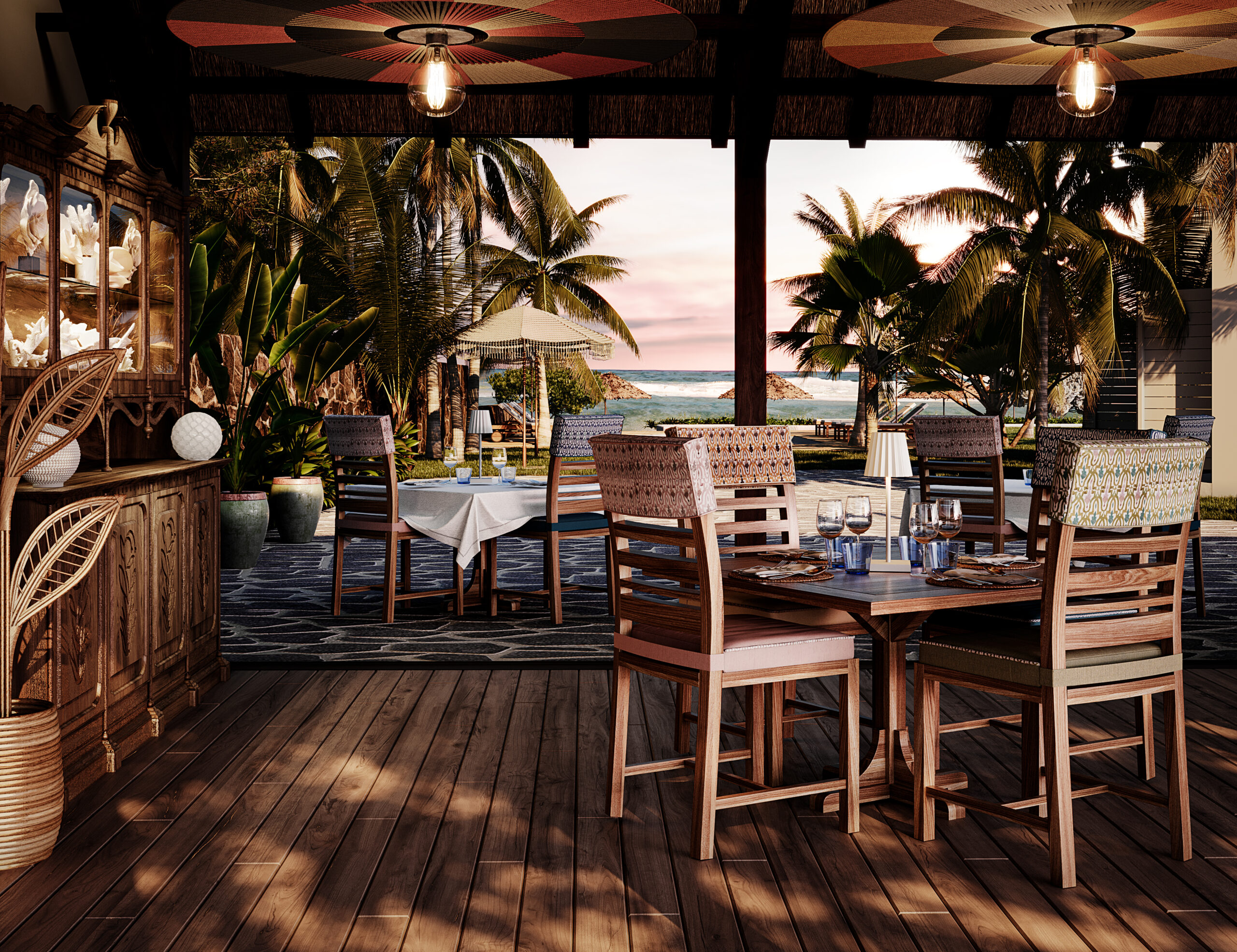 "The hotel's previous owner was a colourful, flamboyant character. Our aim was to channel her irrepressible joie de vivre into the new hotel style which reflects the French personality and island lifestyle of Mauritius," says Chris Browne, Owner and Creative Director, Fox Browne Creative. "We have created a dynamic, delightful and mildly eccentric look with the new décor and are extremely pleased with the end result."
Sustainable renovation and local employment
Browne explains that the refurbishment was undertaken with sustainability in mind. "We did not want to wastefully scrap the existing furnishings at the hotel as they were still lovely and so instead, we purchased fabrics on the island and employed local upholsterers to recover the furniture. We also employed local carpenters and joiners as well as other specialist artisans to assist us with the refurbishment, and used innovative strategies to reinvent the La Maison spaces without creating needless wastage. In interior design, sustainability is involved in many aspects of a project in order to deliver long-lasting high-quality design with as low as possible environmental impact, waste and pollution," says Browne.
The end result is a beautiful, fresh and vibrant boutique Mauritian getaway that truly reflects the intimate "French summer house", the quientessence of La Maison, nestled as it is in its spectacular setting on the east coast of the island and enjoying a special relationship with the sea.
"This property was already a very distinct one, set in a tranquil location with stunning ocean views and easy access to the beach and other amenities, but the transformed interiors have definitely added extra appeal," says Neil Markovitz, CEO, Newmark Hotels & Reserves. "We always have our guests top of mind and want to ensure that they have the most comfortable, incredible and memorable stay with us. The end product at La Maison D'Été has added another layer of luxury and the 'wow factor' that guests always appreciate."
Accommodation rates are priced from 330 Euros per room per night and are inclusive of breakfast, with half and full board supplements also available.
For booking enquiries about La Maison D'Été or to view the portfolio other Newmark destinations, contact www.newmarkhotels.com.
For Press and Media assistance, contact Ian Hamilton Manley of ManleySocial via email ian@publicity.co.za or +27 (0)82 826 0456.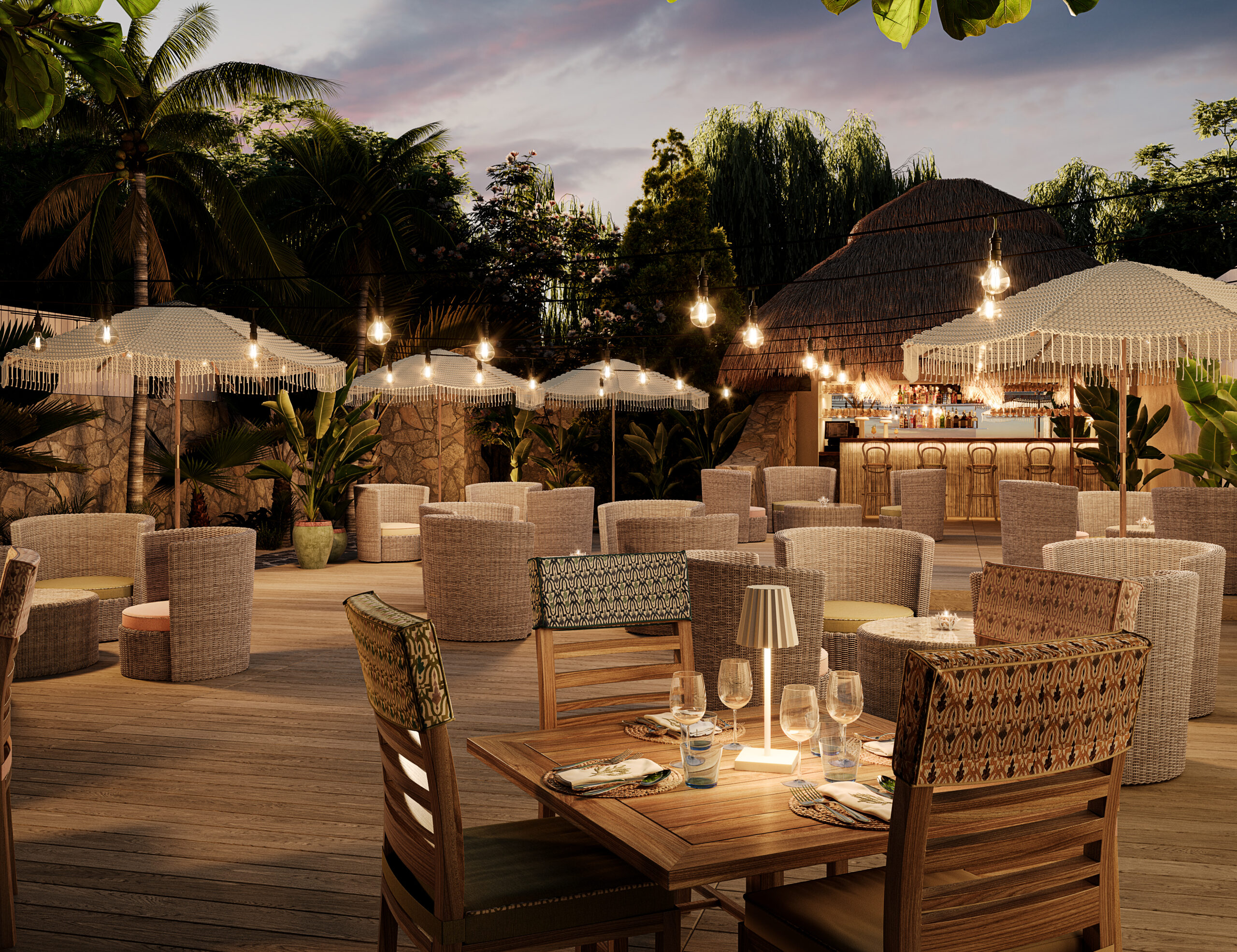 About NEWMARK Hotels & Reserves
With a heritage spanning two dynamic decades, NEWMARK Hotels & Reserves provides extensive experience in managing prestigious and distinctive properties matched by its passion to assist owners realise their business goals. This is made possible by a highly focused, motivated and skilled executive team, led by industry visionary, Neil Markovitz. The team's collaborative proficiency enables the company to offer a comprehensive range of hospitality management services, specially tailored to suit each property. NEWMARK's forté lies in identifying the unique attributes of each property and bringing these to the marketplace's attention through a bespoke, tailor-made model.  This dynamic company's singular approach, which involves first establishing solid infrastructure before pursuing other goals, has driven its success.
The company's South Arican portfolio includes a curated collection of luxury hotels, reserves and lodges in South Africa, East Africa including Zanzibar as well as Mauritius.  NEWMARK's portfolio includes the Cape Town signature addresses of the Victoria & Alfred Hotel, the deluxe Dock House Boutique Hotel, the five-star Queen Victoria Hotel & Manor House; all located within the blue chip V&A Waterfront.  Also in Cape Town are the classic Winchester Hotel in Sea Point, the Onyx Boutique Hotel and the new Rockefeller Hotel, both on the city's Foreshore. Further into South Africa's interior, the collection boasts the Eastern Cape's historic Drostdy Hotel in Graaff-Reinet as well as the nearby legendary Mount Camdeboo Private Game Reserve. Motswari Private Game Reserve in the Timbavati Private Nature Reserve and the Nkomazi Private Game Reserve, both in Mpumalanga Province complete the current lodge and reserve collection.
The new 11-hectare Qwabi Private Game Reseve in South Africa's Limpopo Province launches this month too. Qwabi is set within one of only two UNESCO heritage sites in Africa and offers three distinct luxury lodges that cater to all markets be it individual travellers, mulit generational familes or executive corporate gatherings
NEWMARK cemented its presence in South Africa's financial capital, Johannesburg, with the launch in 2021 of The Catalyst Hotel situated in Sandton.
Further afield, the company represents Chuini Beach Lodge on the spice island of Zanzibar, Serengeti Sojourn, a luxury mobile camp that follows the annual wildlife migration between Tanzania and Kenya. On the island of Mauritius, Newmark recently acquired  representation of the popular independent small hotel, Mystik Life Style located to the north of the island.
In 2024, Newmark Hotels & Reserves launches Shirazi Resort & Villas, which is located an an idyllic tranche of Zanzibar's unspoilt northern coastline.
ENDS/
For Press and Media assistance, contact Ian Hamilton Manley of ManleySocial via email ian@publicity.co.za or +27 [0] 82 826 0456.