NEW SOUTH AFRICAN LUXURY CAMPING COMPANY,
CANVAS COLLECTIVE AFRICA, ENTERS THE MARKET WITH AN HAUTE STYLE TRAVEL EXPERIENCE
[South Africa, Cape Town, – 15 March 2022] – ​​CANVAS COLLECTIVE AFRICA, founded earlier this year by luxury camping and specialist event veterans Dez Lundy and Samara Stern, have launched a truly unique camping and cuisine offering into some of the Western Cape's most breathtakingly beautiful regions. Introducing Canvas Collective Africa's Posh Tent and The Field Kitchen wilderness experiences; a journey into gloriously remote locations merging  haute camping with fine cuisine and the great outdoors. What awaits intrepid road trippers is an immersive experience where locations will be determined by the sunshine quota, and where bountiful biomes are flush with forage-worthy ingredients. Reservations are now being accepted for the first camp-out from April 14th 2022 and just ahead of the Easter long weekend.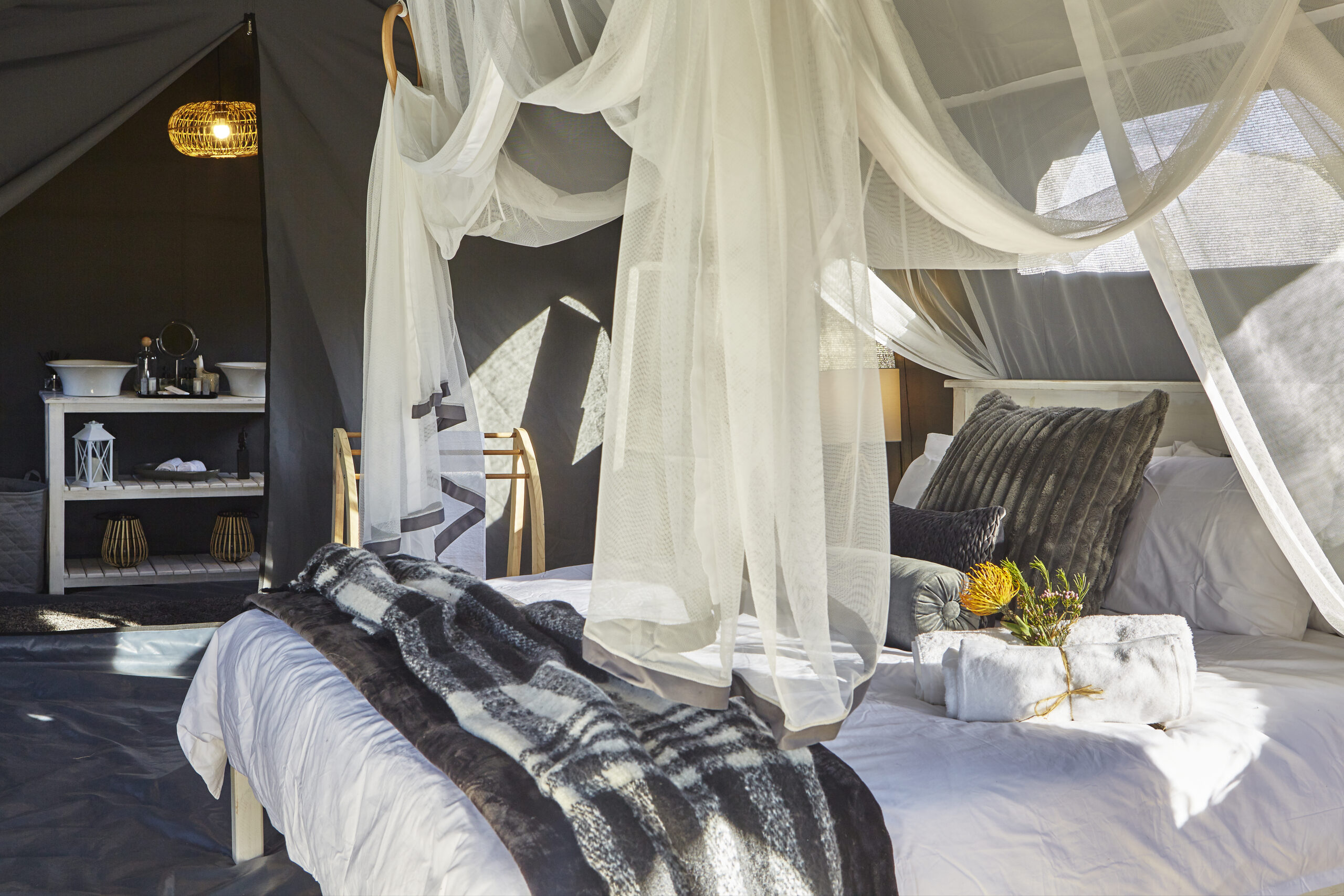 THE POSH TENTS
There are ten Posh Tents that create the intimate mobile camp site and are constructed of canvas and elegantly appointed. A Posh Tent sojourn is the ultimate for discerning adventurists and nature enthusiasts who relish camping but also appreciate a little pampering and skipping the schlep work.
Step through the tent flap and what awaits is a high-end haven, a two-sleeper complete with state-of-the- art camping amenities including an en-suite bathroom including a rain shower and even a private fancy flushing loo. The living area is intimate yet roomy and centred by a Queen-sized bed. Around the periphery guests will find handcrafted furniture, rugs, and freestanding lamps, all contributing a cosy and contemporary space. The tents have also been constructed to allow for plenty of head room. Outside the abode, nature watching is the order of the day, best observed from comfortable outdoor loungers and deep cushions.
Embrace the opportunity to go off grid without any compromise on comfort, gastronomy, and style. The Canvas Collective Africa 2022 migration calendar begins at an extraordinary locale in the Overberg region and then decamps to the Cederberg followed by Witzenberg and near the charming town of  Tulbagh.
THE FIELD KITCHEN
The Field Kitchen, South Africa's first truly-mobile fine-dining restaurant launches at the same time and is in the masterful hands of authentic food forager, Greg Henderson. Chef-in-residence Henderson, who has travelled extensively throughout Africa, draws from the diverse ecosystems and biomes of each location. Gastronomes can expect adventurous yet approachable dishes that will incorporate his veld finds and other hyper local ingredients, paired with nearby estate wines and locally distilled spirits.
Set inside a mobile glass, steel and canvas cabin, The Field Kitchen has been designed as a bespoke moveable fine dining restaurant and open-plan food studio. Diners will be privy to the creation of foraged foods and ingredients transformed into thought-provoking yet delicious dishes.
THE 2022 CANVAS COLLECTIVE MIGRATION CALENDAR
Guests may choose from three different locations for the remainder of this year. The launch camp is located on an idyllic tranche of farmland in Botrivier in the Overberg region and will be available to über campers from April 14th and until June 30th 2022.
From 7 July to 30 September 2022 Canvas Collective Africa then decamps and migrates to the fertile Biedouw Valley, just beyond Clanwilliam for the winter and spring seasons. This is flower season when the landscape becomes a magical palette of colour unique to South Africa.
Bringing the year to a close from 7 October to 15 December 2022 will be the lesser known Witzenberg region, home to valleys of lush vines, orchards and majestic mountain ranges.
CLINCH YOUR POSH TENT
The Canvas Collective Africa wilderness experience is now open for bookings. Priced at R8,000 per tent per night that accommodates two adults. A minimum two-night stay is required, which allows for a proper immersive experience. The rate includes breakfast in bed, a delicious lunch picnic hamper, high tea in the veld, dinner and lastly, midnight snacks to enjoy under the stars. Also included are all non-alcoholic and alcoholic beverages (except international wines and spirits).
Guests must be 18 years or older and no pets are permitted as the camps will be erected in nature reserves and farmlands. Please note that the camps are closed on Mondays unless by prior arrangement.
To book your Canvas Collective Africa Posh Tent experience; email stars@canvascollectiveafrica.com. For further information visit www.canvascollectiveafrica.com and follow the foodie migration via Instagram: @canvascollectiveafrica
#canvascollectiveafrica #poshtents #fieldkitchen #manleysocial
For Press and Media assistance, contact Ian Hamilton Manley of ManleySocial [Pty] Ltd  via email ian@publicity.co.za or +27 (0) 82 826 0456.
ENDS/