NEWMARK HOTELS ANNOUNCES OFFICIAL OPENING OF LETAMO LODGE AT QWABI PRIVATE GAME RESERVE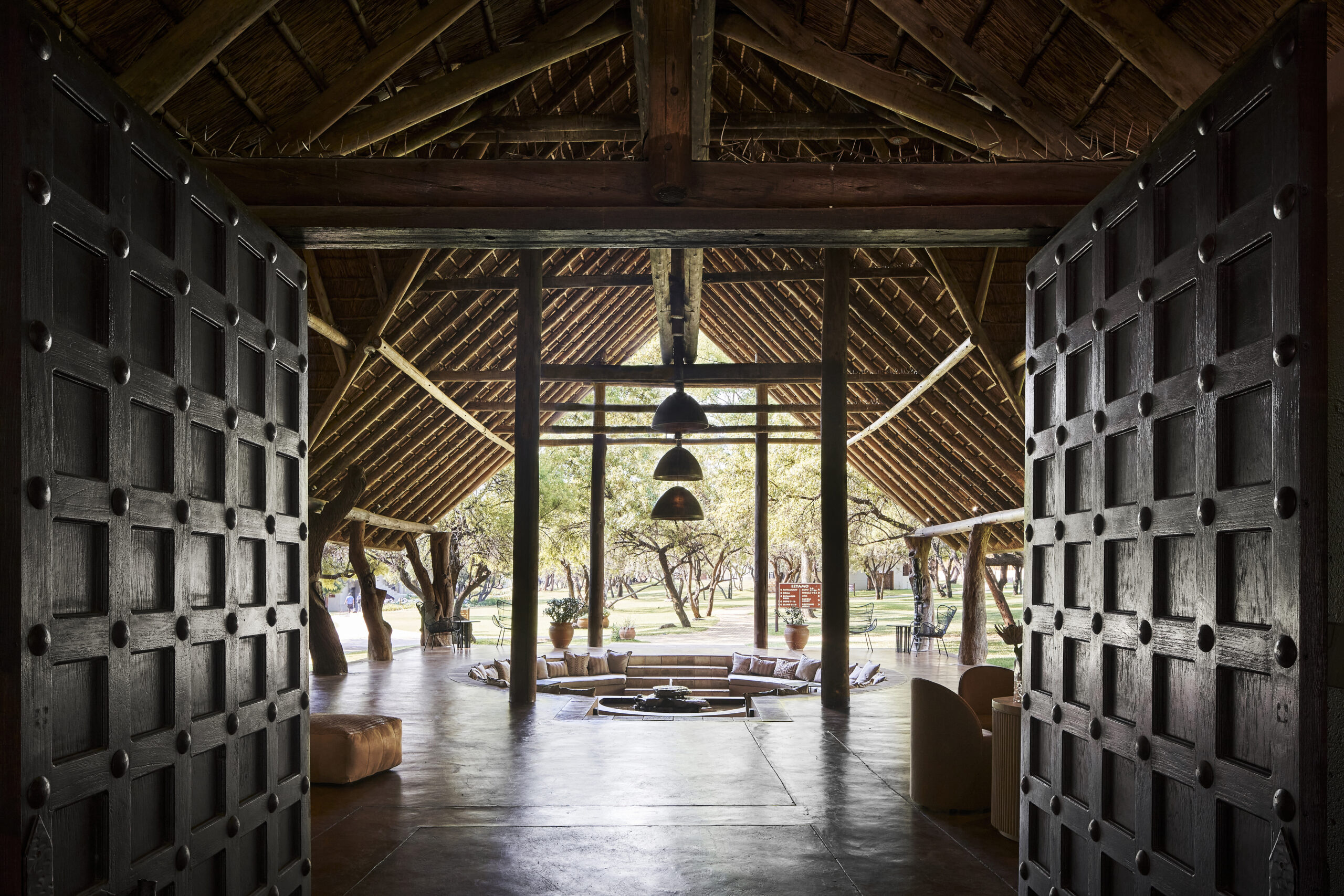 South Africa, Limpopo, 19 December 2022; Dovetailing advantageously with the start of the summer holiday season, Letamo Lodge at QWABI Private Game Reserve was launched this past weekend amid great excitement. The family-friendly luxury lodge – the first of three that have jointly undergone an extensive R120 million refurbishment – is settled within the vibrant Waterberg of Limpopo Province.  QWABI, meaning 'African wild cat' in the local Sesotho language, is a world-class safari destination that has recently been added to the blue chip Newmark Hotels and Reserves portfolio.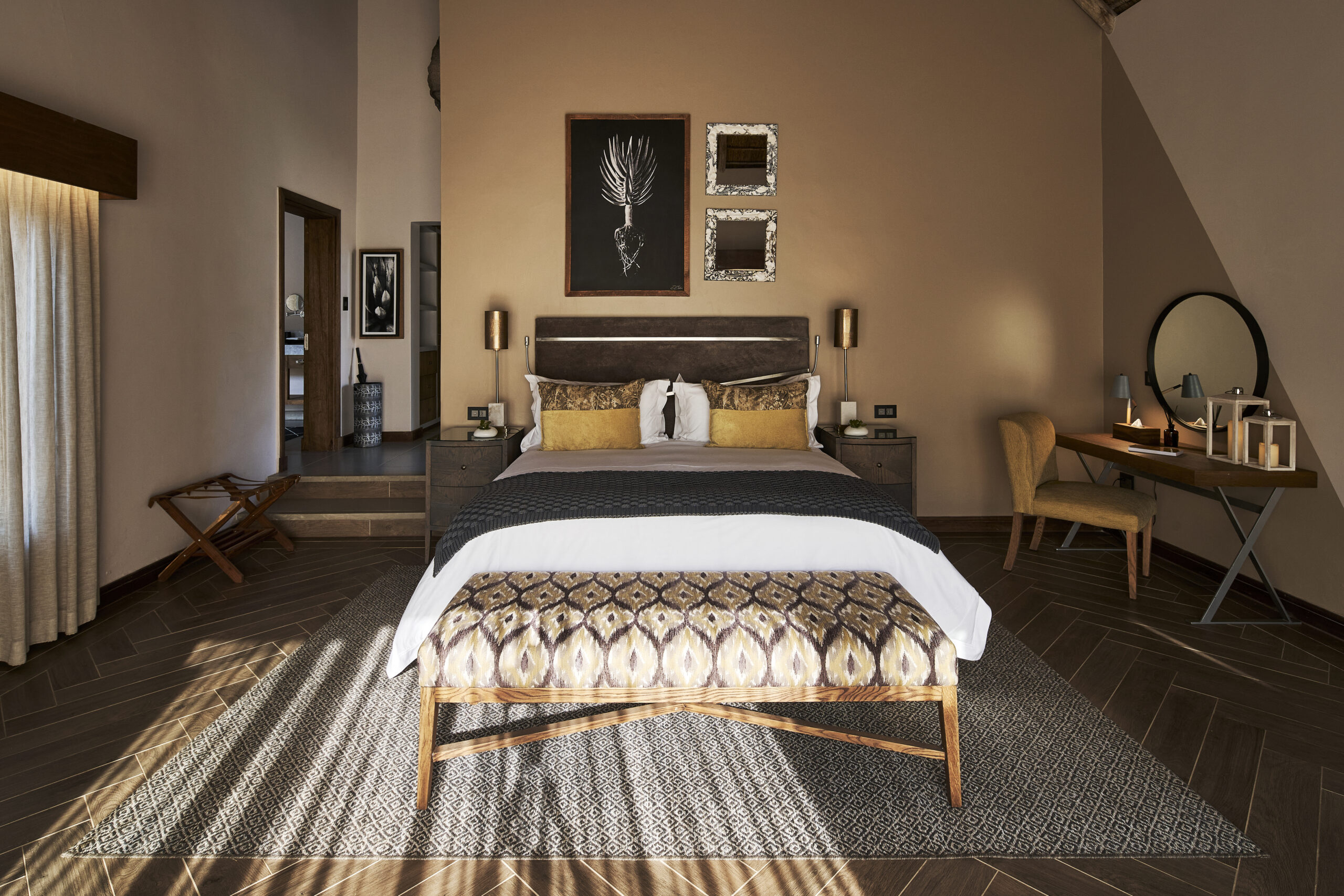 GEOGRAPHY
Falling within one of only two UNESCO-declared biospheres in Africa, QWABI Private Game Reserve is simply superb. Embedded within the richly diverse savannah biome of the malaria-free Waterberg (meaning water mountain), this geographically wonderous property harbours more than 5,500 species, including several uncommon birds and animals like white-backed night-herons, aardvarks and brown hyenas. In the Waterberg wilderness, which is believed to be more than 2.5 billion years old, the pay-off is the dramatic scenery, as evidenced in the striking landscapes and the extraordinary wildlife that roams this lush locale, fronted by Africa's 'Big Five' – lion, elephant, buffalo, leopard and rhinoceros.
Of the latter, QWABI is a refuge for a thriving white rhino population that is under constant hi tech surveillance. Having these prehistoric beasts as part of the safari offering further cements Newmark's conservation-conscious reputation and the company's ongoing commitment  to the preservation and re-wilding of endemic fauna and flora. With such abundant birdlife, QWABI is a twitcher's paradise and having one of most prolific Cape vulture breeding colonies nearby means these vulnerable raptors can often be spotted. Daily game drives, enjoyed in the sophisticated comfort of a new fleet of 4×4's, are a thrill for guests as guides unpack the unique attributes of this vast and ancient region.
THE LODGE
Letamo boasts 58 rooms that includes 10 luxury suites with private plunge pools. All have been stylishly reimagined by the Cape Town based design firm Francois Du Plessis Interiors, who have created an Afro-chic ambience to complement the extraordinary environment. Amenities include a padel court, two swimming pools – one of which overlooks a serene watering hole – and a luxury boutique bush spa. Diners will enjoy the elegant main restaurant, intimate dining nooks for couples, and the outdoor boma. Bush dinners under a shimmering night sky are a highlight on the experience agenda and with next-to-zero light pollution, the stargazing at QWABI is unrivalled.
CHILDREN AND CONSERVATION
Letamo's thoughtfully curated child-friendly safari offering makes it a shoo-in for an impactful family holiday. Activities Co-ordinator Lindsay Whitton is all about building the next generation of budding conservationists and in lieu of this, she has devised the 'Junior Conservationists Programme' to encourage a deep, long lasting appreciation of the natural world. "At QWABI," she says, "conservation underpins our core values and we want to instil this same passion in young children. It's the way forward and all the activities we offer have this front of mind." She explains that on arrival at Letamo, each child receives a backpack that contains a hat, a bird and animal list, stationery and reusable straws and water bottles to demonstrate the move away from plastic and to advocate sustainability from the get-go. "There'll be an opportunity every day to do something age-appropriate both in camp and nearby, with youngsters chaperoned at all times." Whether it's learning about tracking, seeing how indigenous seeds grow or hanging out in the Junior Conservation 'HQ', youngsters will leave us with a fresh appreciation of nature."
OPENING IN Q1 AND Q2 OF 2023
The 25-room Babohi Lodge, which will be exclusively for adult guests, will be defined by fine cuisine, refined accommodation (including an opulent presidential-style suite for guests seeking additional privacy) and extensive facilities including a large swimming pool, dedicated wellness spa, fitness centre, restaurant, bar, vinotèque and boma. Semela, suited more to groups and corporate getaways will feature 24 guest rooms, as well as a swimming pool, restaurant and bush bar.
QWABI joins the select Newmark portfolio of privately owned game reserves that includes Motswari Private Game Reserve in the Timbavati, neighbouring the Kruger National Park; Nkomazi Private Game Reserve in Mpumalanga, Mount Camdeboo Private Game Reserve in the Eastern Cape and Serengeti Sojourn, a luxury mobile camp that follows the annual migration in East Africa.
QWABI Private Game Reserve is approximately three hours by road from Johannesburg and 60kms from the town of Bela Bela in a malaria-free area. QWABI is easily accessible for self-drive visitors, although guests may also fly into the reserve via helicopter. Accommodation at Letamo Lodge is priced from R6,650.00 per person sharing, per night for full board, including daily game drives.
For bookings call Newmark Central Reservations Office on +27 21 427 5900 or visit https://bookings.newmarkhotels.com/
NOTE TO EDITORS
About NEWMARK Hotels & Reserves
With a heritage spanning two dynamic decades, NEWMARK Hotels & Reserves provides extensive experience in managing prestigious and distinctive properties matched by its passion to assist owners realise their business goals. This is made possible by a highly focused, motivated and skilled executive team, led by industry visionary, Neil Markovitz. The team's collaborative proficiency enables the company to offer a comprehensive range of hospitality management services, specially tailored to suit each property. NEWMARK's forté lies in identifying the unique attributes of each property and bringing these to the marketplace's attention through a bespoke, tailor-made model.  This dynamic company's singular approach, which involves first establishing solid infrastructure before pursuing other goals, has driven its success.
The company's South Arican portfolio includes a curated collection of luxury hotels, reserves and lodges in South Africa, East Africa including Zanzibar as well as Mauritius.  NEWMARK's portfolio includes the Cape Town signature addresses of the Victoria & Alfred Hotel, the deluxe Dock House Boutique Hotel, the five-star Queen Victoria Hotel & Manor House; all located within the blue chip V&A Waterfront.  Also in Cape Town are the classic Winchester Hotel in Sea Point, the Onyx Boutique Hotel, the Rockefeller Hotel, both on the city's Foreshore. Further into South Africa's interior, the collection boasts the Eastern Cape's historic Drostdy Hotel in Graaff-Reinet as well as the nearby legendary Mount Camdeboo Private Game Reserve. Together with QWABI Private Game Reserve, Motswari Private Game Reserve in the Timbavati Private Nature Reserve and the Nkomazi Private Game Reserve, both in Mpumalanga Province, complete the current reserve collection.
NEWMARK cemented its presence in South Africa's financial capital, Johannesburg, with the launch in 2021 of The Catalyst Hotel situated in Sandton.
Further afield, the company represents Chuini Beach Lodge on the spice island of Zanzibar, Serengeti Sojourn, a luxury mobile camp that follows the annual wildlife migration between Tanzania and Kenya. On the island nation of Mauritius, Newmark represents and manages the beachhouse-chic La Maison D'Été in the north-east, which re-opened this month post a striking refurbishment and has also recently been appointed to manage and represent the popular independent small hotel, Mystik Life Style located to the north of the island.
IN 2024, Newmark Hotels & Reserves launches Shirazi Resort & Villas, which is located an an idyllic tranche of Zanzibar's unspoilt northern coastline.
For Press and Media assistance, contact Ian Hamilton Manley of ManleySocial via email 
ian@publicity.co.za
 or +27 [0] 82 826 0456.