RENOWNED MASTER DISTILLER UNVEILS PREMIER RANGE OF WHISKIES AND GIN
South Africa, Stellenbosch, 15 November 2022; Rare and exquisite whiskies and gin are among a range of limited release spirits personally crafted and just unveiled by Johan Venter – one of South Africa's most experienced and accomplished distillers. As small batch creations by a master of his art, the expressions are destined to be sought-after collector's items.
In crafting drinks that are close to his heart, Johan has brought the gamut of his creativity and skill to bear. The new endeavour in the making of these fine spirits is called The Inventer, reflecting his personal hand and ingenuity.
It is certainly a departure from where his career began – not as an inventor, but as a scientist, a highly structured and controlled thinker. Having acquired a master's degree in microbiology, he subsequently went on to oversee some of South Africa's biggest and most prestigious drinks brands. And it was eventually as a distilling and blending specialist that he has been a sought-after, expert judge at leading local and international competitions for over 20 years.
After retirement in 2019, Johan spent five months in Scotland as Whisky Master of three international whisky distilleries owned by Distell, namely Tobermory, Deanston and Bunnahabhain. Here, he refined blends and developed new products.
The release of his whiskies and gin follow on the heels of two exceptional potstill XO brandies. Three single barrels were selected by Johan for inclusion in the initial launch range, all expertly distilled at the internationally awarded James Sedgwick Distillery in Wellington, and an exotic citrus, pamplemousse gin that was developed by Venter himself. Each bottle is issued with a certificate of authenticity.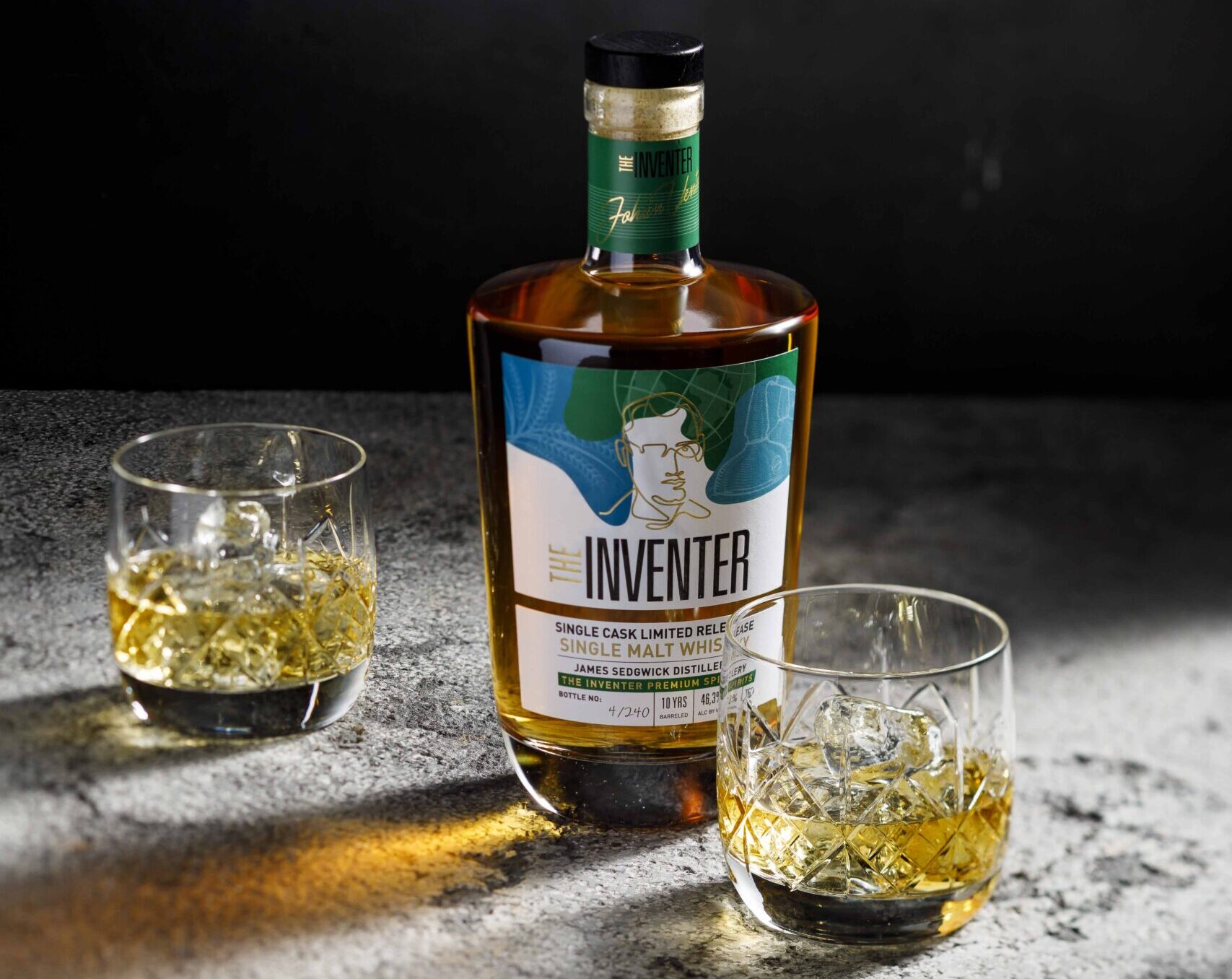 Single cask, single grain
The single grain whisky matured for a minimum eight years in total. It spent three years in an ex-bourbon cask, then continued its journey in a second and third-fill cask to round off its unique identity. It was bottled at 48,6% alc, and only 270 bottles are available.
"South Africa produces a unique style of grain whisky due to the warm climate that accelerates the maturation process and the flavour extraction from the oak," says Johan. "This situation results in smooth whisky thanks to the contribution of the African sun. The cask I chose gave me precisely what I was looking for – fruitiness that is well-balanced with sweet spices and oak."
Single cask, single malt
This single malt expression spent a decade maturing in an ex-bourbon cask. The spirit embraced the subtle hues of the wood, allowing authentic flavours of the spirit to develop and emerge. It was bottled at 46,3% alc, with only 240 bottles available.
"This cask exceeded all my expectations. It's an intense single malt with a complex finish that left me with more than a little nostalgia," says Johan.
His notes describe it as having a fruity aroma characterised by sweet cherries and fruitcake. The palate is "strong, with intense fruit and nuts, and well balanced by oak".
Olorosso single cask, single malt
"This is a favourite of mine," declares Johan about the whisky. "I was looking for a single malt enhanced with a real sherry character. The spirit here spent almost half of its maturation in an oloroso cask so expect a dark whisky with an intense nuttiness. Just delicious!"
The limited release of 600 bottles was made from spirit that spent its first five years in a third-fill ex-bourbon cask, after which it was racked to a seasoned oloroso cask for a final four years. It was bottled at 51,6% alc.
Exotic Citrus Pamplemousse Gin
No ordinary spirit, this dry-style gin was distilled in a small copper potstill with pamplemousse that Johan sourced and selected himself. The citrus hails from a small orchard outside Citrusdal, on the verge of the Cederberg Mountains. Only 1 150 bottles will be released.
Pamplemousse is undoubtedly the hero, the white flesh offering a balance of sweet and tart, with much less bitterness than that from its well-known cousin, the grapefruit.
For Johan, the drink is a blast from the past. "The Exotic Citrus Pamplemousse Gin rekindles my childhood memories of the enormous  pamplemousse trees in Nelspruit. We'd eat our fill and then run barefoot through the garden, sticky faces dripping with bitter-sweet juice," he says.
Two potstill XO limited release brandies were launched last week. The complete range is exclusively available for purchase at www.theinventer.co.za.
Stay updated on The Inventer's journey by following The Inventer on Facebook, @TheInventer_ on Instagram, @TheInventer_ on Twitter and The Inventer  on LinkedIn.
For more information, email: discover@theinventer.co.za.
For Press and Media assistance contact Ian Hamilton Manley of ManleySocial on +27 (0) 82 8260 456 or ian@publicity.co.za
For Press and media assistance contact Ian Hamilton Manley via ian@publicity.co.za or call +27 (0) 82 826 0456.
#TheInventer
ENDS/